This year, 31st May — 6Th June at Jehangir Art gallery and 9th June to 13th June at DD Neroy art gallery. We have a unique and brilliant artist Priya Yabaluri from Mumbai. Exhibiting her paintings in group show By "Josh A charity show" at Jehangir Art Gallery Mumbai and Art Spot "Unlimited Stokes" at DD Neroy Art Gallery. Her series Preserve the ocean won accolades for creating awareness about environmental protection. She says Ocean is life and we must preserve it.
Nature is an important part of the art as it depicts life and human existence. Without nature, humans will cease to exist. That's why the relationship between art and nature is balanced.
Artists find their inspiration in nature. For them, it is a way to express themselves through nature by taking photographs or painting landscapes.
This relationship between art and nature spiked the creativity of renowned artist Dr Priya Yabaluri. Dr Priya was always fascinated by the beauty of nature and spent most of her time outside. She loved to see how varied the world really is and how different it looks at each season.
She painted 'Matsya Preserve the Ocean Series' to tell the importance of the ocean and fish. Her art project is a subjective expression of the ocean and the creatures residing in it. The purpose of this artwork series is to show how the artist can capture the essence and beauty of nature through their paintings. It is a reflection of what the ocean world looks like in her viewpoint.
It presents surreal expressions i.e. surrealism that aims to revolutionize human life and experience. Surrealism is a style of art that is characterized by the juxtaposition of two different elements.
In Surrealism, there are no limits on what can be portrayed. Artists use their imaginations to create images that are expressive and sometimes humorous. The artist intends to express their feelings about the human condition or explore the mystery of connection with the surroundings.
About her artwork, Dr Priya said "I was also interested in how art can be used as a way to communicate ideas and messages. I loved the idea of being able to share my artwork with others who may not have the same understanding of environmental issues, but who will be able to connect with the meaning behind my work.
I created this art series because through art I wish to give a positive message that is 'Please save the environment. Please save ocean and water resources. Respect nature reserves. Our existence depends on them. Humans will cease to exist if we end up destroying the environment. It is our duty to protect nature in order to save life on the Earth. Don't leave your responsibility on someone else. Don't blame others. Do your part and that is more than enough."
At present, she is an award-winning artist and founder of two art brands 'Art for Awareness', 'World Art Fair.' Dr Priya has also published various art books and magazines under her brand name.
Dr Priya Yabaluri has also served as an art event organizer. She has organized several exhibitions to support the work of both prominent and amateur artists. The artist has backed up many other artists and helped them grow in the art industry.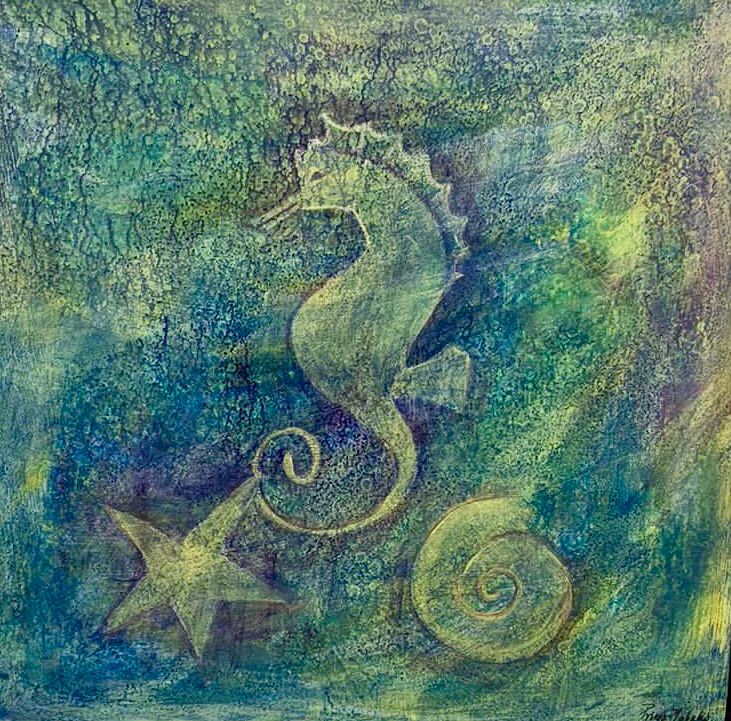 Her recent event 'First Woman Art Fair' was a huge success. It displayed the work of women artists. Priya is the only organizer in the country who has conducted an exhibition with only female artists.
She believes that women artists deserve more than what they are having right now. Dr Priya is a staunch supporter of women empowerment. Thus, she organized the event to give her contribution to the cause.
For her dedication, she has won the Excellence Award by the India Book of Records and the Emerging Entrepreneurs Award by Global Summit, Yashasvi Excellence Award for being a distinguished Artist, and Start-Up Entrepreneur 2021.
Priya was also chosen to represent India in the International GTA Global Talent Eminent Artist and Entrepreneur Award in Dubai. Recently, she achieved a place in Foxclues' India's Prime Top 100 Women Icon list. She recieved Top 50 Women creative entrepreneur award 2022. She has attended many global summits and recognised for her dedication towards Creative Contribution to the society.
Her work was admired in countries like the UK, Germany, St. Petersburg, Moscow, France, London, Paris, and Dubai. To date, she has taken part in more than 45 groups and solo art shows in our country.
As an artist, Dr Priya Yabaluri has a soft corner for nature and the environment. That is why she joined hands with United Nations UN75 to administer awareness programs by arranging Art Exhibitions to cover social, ecological, global, and cultural issues.